Prof. Stephen Heung-sang WONG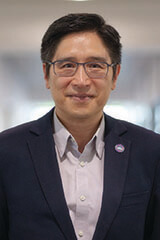 Professor
Department of Sports Science and Physical Education
BEd (Liverpool), MSc, PhD (Loughborough), FACSM
Biography
Stephen H. Wong is currently Professor of the Department of Sports Science & Physical Education at CUHK. He also serves as Head of United College and Director of the Hong Kong Institute of Educational Research. Professor Wong is a Fellow of the American College of Sports Medicine (ACSM), the Asian Representative of the Active Healthy Kids Global Alliance (AHKGA) Board and the Co-leader of the Active Healthy Kids Hong Kong Report Card on Physical Activity for Children and Youth. His research focuses on physical activity and sedentary behaviour on children, and nutritional and metabolic aspects of exercise. He has published extensively in the leading journals of his field and serves as the Editor-in-Chief of Journal of Exercise Science & Fitness. Professor Wong obtained his Ph.D. in Exercise Physiology from Loughborough University as a Commonwealth Scholar.
Research Interests
Nutritional and metabolic aspects of exercise
Physical activity and sedentary behaviour
Selected Publications
Funded Research Grants as Principal Investigator (in the past five years)
"Wearing face masks during exercise in the heat: Does intensity and physical activity level matter?", 2022-2024 (RGC General Research Fund)
"Promoting physical activity among primary school children and their families in Hong Kong: A community-based healthy lifestyle program ("F.I.T. Family")", 2021-2024 (RGC Research Impact Fund)
"2018 Hong Kong Report Card on Physical Activity for Children and Youth". (Tin Ka Ping Foundation)
Courses Taught
Exercise physiology and sport nutrition
Physical activity and health
Selected Honours and Awards
Best Report Card Promoter, Active Healthy Kids Global Alliance 2018
Best Report Card 2018 Runner up. Active Healthy Kids Global Alliance 2018 (as Co-leader of Hong Kong Report Card)
VC Outstanding Fellow of Faculty of Education (2014-2019)
Adjunct Professor, Peking Union Medical College (2018 - present)
Research Excellence Award, CUHK, 2010
Selected Professional Services
Chairman, Hong Kong Physical Education Teachers Society
Chairman, 2022, 2018 Assessment Panel on Physical Education Key Learning Area, the Chief Executive's Award for Teaching Excellence (CEATE), Education Bureau
Editor-in-Chief, Journal of Exercise Science and Fitness (JESF)
Member, Editorial Board/Advisory Board

International Journal of Sport Nutrition and Exercise Metabolism
International Journal of Behavioral Nutrition and Physical Activity
Journal of Sport Sciences

Asia representative, Active Healthy Kids Global Alliance (AHKGA) Board of Directors
Supervisor, Christian Alliance S.C. Chan Memorial College
Member, Registered Management Committee, Christian Alliance International School (CAIS)
Member, Board of Trustees, United College, CUHK
Member, Education Panel, 2020, 2014 Research Assessment Exercise, University Grants Council, Hong Kong
Co-Chair, Organising Committee, 2018 Annual Meeting of International Society of Behavioural Nutrition and Physical Activity (ISBNPA), Hong Kong, June 3 - 6, 2018.
Scroll to Top
Developed and Hosting by:
Topcat Teamwork